Team
Hector Botero
President and CEO
Miami, Florida
Direct Phone:
(305) 851-2068
Mr. Botero has spent more than 10 years building, running and troubleshooting international and emerging markets newswire operations in Asia-Pacific, Europe, Latin America and North America for the largest corporate newswires worldwide. Previously, Mr. Botero led international operations at Marketwired Sysomos, a leading corporate communications and social media services company owned by OMERS Private Equity, one of Canada's largest private equity groups with more than 6.5 billion dollars under management. From 1997 until 2008, Mr. Botero worked as President of Business Wire Latin America and Business Wire China. Business Wire was acquired by Berkshire Hathaway in 2006.
Eduardo Vidal
Executive Vice President and General Counsel
Miami, Florida
Direct Phone:
(713) 725-6169
Mr. Vidal is a corporate lawyer with over 30 years of experience in New York and Chicago firms, having worked on a wide range of transactions such as securities placements, loan financings and private equity investments. For the last few years he has been General Counsel of iCrowdNewswire, LLC and its predecessor affiliate, focusing on the legal aspects of outsourcing, crowdfunding and startup companies.
His experience includes cross-border transactions involving Latin America, Europe and Asia-Pacific. He is fluent in Spanish and has a working knowledge of Portuguese and French, having worked with local counsel in jurisdictions worldwide. He is a member of the bar in the States of New York and Illinois.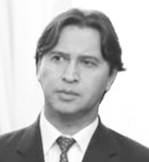 Carlos Orellana
Latin America Representative
Santiago, Chile
Direct Phone:
56-99-821-5223
Mr. Orellana is an engineer and master of finance, having won a national innovation award, with 28 years of experience working in the public and private sectors of Chile. He was most recently National Director of the Official Bulletin of the Republic of Chile, and President of the Network of Official Bulletins of the Americas (REDBOA). In the public sector, he has led the creation of TuEmpresaEn1Dia, the first registry of its kind in Latin America for the incorporation of a company in one day; he has participated in the modernization of the Industrial Property Institute, the fifth most innovative Trademark Office in the world and the Internet connection of the Internal Revenue Service. In the private sector, he has been General Manager of the editorials Anfitrión S.A. and Derecho Digital S.A.; and he has served as E-Publisher and Chief of Operations Office of LexisNexis Chile (Reed Elsevier), positioning this company as a leader in the area of legal electronic publications.